Awards Description
The ECA Industry Awards 2018, which recognise top-performing organisations throughout the electrotechnical and engineering services industry, are now open to entries.
This year marks a step change in these prestigious awards, with six new categories, taking the overall total of awards to 12.  These include new manufacturer and wholesaler awards, and for the first time there will be an individual ECA award, open to nominees from across the entire industry.
The full list of award categories, many of which are open to sponsorship opportunities, is as follows:
ECA Contractor of the Year-  over £20M Turnover (2017 winner – Imtech Engineering)
ECA Contractor of the Year-  up to £20M Turnover (2017 winner – Williams Coates)
ECA Contractor of the Year-  up to £5M Turnover (2017 winner – Bowers Projects)
ECA Contractor of the Year-  up to £1M Turnover (2017 winner – Combined Electricals)
ECA Excellence in Training and Development (2017 winner – Imtech Engineering)
ECA Best Health & Safety Initiative (2017 winner – SES Engineering Services)
[NEW] ECA Best Energy Solutions Project
[NEW] ECA Best Fire & Security Project
[NEW] ECA Best Digital Infrastructure Project
[NEW] ECA Best Manufacturer Supply Chain Initiative
[NEW] ECA Best Wholesaler Supply Chain Initiative
[NEW] ECA award for Major Contribution to the Industry (Individual Industry-wide Award)
ECA CEO Steve Bratt commented:
"The ECA is delighted to launch our 2018 ECA Industry Awards. As ever, we anticipate receiving entries of the highest quality from across the ECA membership and associate categories.
"With many previous winners having highlighted how winning an ECA award has raised their profile, the awards are an ideal opportunity for businesses to showcase their achievements to key clients and stakeholders."
In addition to those listed above, two other businesses won ECA awards in 2017, namely A Archer Electrical (Best Client / Contractor Partnership Award), and Haste Ltd (Innovation in Contracting Award). Both of these awards have been merged into the 'Contractor of the Year' awards for 2018.
The award winners will be announced during the ECA's 2018 Industry Awards Dinner, which is being held at the Hilton Bankside in London on Friday 8 June. The dinner is one of the top events on the industry calendar, and will be hosted by a leading comedian, to be announced next year.
The closing date for entries for the 2018 awards is midday on 20 March 2018. For more details of how to enter or sponsor the awards, please visit www.ecaawards.co.uk or email awards@eca.co.uk.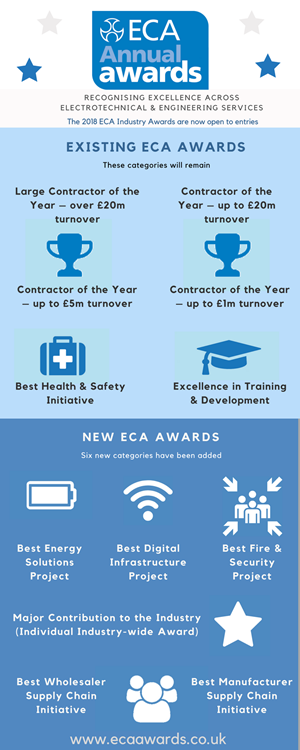 Whether a winner or a category finalist, your business will be able to impress clients and customers of your achievements to boost business reputation and win new contracts.
In addition the following specific benefits are given:
All category highly placed entries will receive 2 FREE tickets to the ECA Industry Awards Dinner 2018, where outright winners will be announced on Friday, 8th June 2018, due to take place at the prestigious Hilton London Bankside Hotel.
All category winners will receive an engraved award that can be displayed within their workplace.
All category winners will receive a set of professional photographs that can be used for publicity purposes.
Winners and those that receive special commendations will receive logos that can be placed on all company marketing materials and websites.
Post-show publicity will be extended across all ECA marketing and promotional channels and to the building services and electrical industry with details of all winners, including photography.
Before you enter your work into ECA Industry Awards, we have got few rules to keep your unrestrained creativity in check.
Entry Rules:
1. All entries for the contractor categories (award categories 1-9) must be current ECA Member businesses of good standing.
2. Entries for the wholesaler and manufacturer awards categories (categories 10, 11) are open to companies that supply the electrotechnical
contracting industry in England Wales and/or Northern Ireland with products meeting the required UK standards.
3. Previous outright winners in a particular category may not re-apply for that particular award category in the following year, but may apply
again after two years.
4. Companies and organisations can enter any relevant category or categories; however no company can win in more than 2 categories.
5. Entries for any 'turnover-specific' award category must not be a subsidiary of a company or a group of companies that are (individually or
collectively) in a higher turnover band. Entries in turnover-specific categories must refer to their electrotechnical turnover.
6. Entries received after the submission deadline will not be considered.
7. All entry forms need to be returned to awards@eca.co.uk.
8. Entries are only accepted on the official entry form. All supplementary information must be attached to the entry submission email.
9. All entrants agree to be photographed for ECA promotional purposes.
10. The ECA reserves the right to publish press releases, articles, case studies and photographs and to carry out publicity activity relating to the
entrants and winners.
11. Winners will be announced at the ECA Industry Awards Dinner at the prestigious Hilton Bankside in London on Friday 8 June 2018.
12. The judges' decision is independent and final.
13. Correspondence will only be entered into at the ECA's discretion.
Contact Information
awards@eca.co.uk
Visited 126 times, 1 Visit today